News
PTC-CSJ Receives Gawad Parangal Award from DepEd NCR
15 October 2015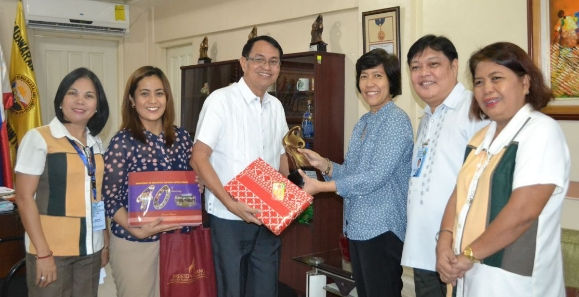 PTC-CSJ Foundation was awarded the Gawad Parangal for the partnership category by the Department of Education-National Capital Region (DepEd-NCR) during its 2015 Gawad Parangal at Pasasalamat on October 7, 2015 in Quezon City.

The annual event serves "to honor teachers, schools and valued partners in acknowledgment of their valuable contribution to the attainment of the goals of DepEd".

In a simple ceremony, DepEd Muntinlupa Schools Division Superintendent Dr. Mauro C. de Gulan turned over the award and expressed his congratulations and gratitude to PTC-CSJ Foundation through its Executive Director, Ms. Flory A. Tabio.

In response, Ms. Tabio said that "The Foundation is happy to have supported Muntinlupa City's two public schools since 2010. We look forward to continuing the partnership with DepEd to help improve basic education outcomes, especially in Muntinlupa."

The ceremony was witnessed by the Foundation's partner-schools in Muntinlupa City: Bayanan Elementary School-Main with its Principal, Mr. Antonio Gagala and Lakeview Elementary School with its Principal, Mrs. Buena dela Cruz. The two Schools' former Principal, Ms. Marissa M. Andanza, who has since transferred to another school in Muntinlupa, Sucat Elementary School, was also present.