Be Our Partner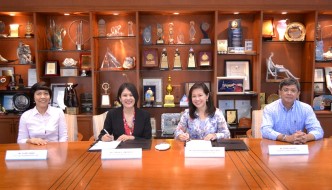 Program Partners
The Foundation engages in partnerships as a core strategy and we leverage our resources with other institutions that share our mission and values.

We work with and continually look for partners, including non-government organizations (NGOs), academic institutions/schools, local government units (LGUs), and private companies, to develop and implement programs on our four focus areas: quality education, financial literacy, environmental awareness and conservation, and disaster preparedness.

Our partners include:
Lakeview Elementary School (LES), Muntinlupa City
Marin Shipmanagement Ltd.
Muntinlupa Elementary School (MES)

Networks

PTC-CSJ Foundation is a member of the following networks:

Support our work

The Foundation welcomes your support! For more information on how you can help, please email the Executive Director, ftabio@ptccsj.org.ph or call +632 898 1173.

Donate

PTC-CSJ Foundation has received its certificates of tax exemption and registration as a donee institution from BIR and the Philippine Council for NGO Certification (PCNC), as well as its certificate of registration as a social welfare and development agency from DSWD.

As a certified donee institution, PTC-CSJ Foundation is able to provide donors with a Certificate of Donation for tax deduction purposes and exemption of their donation from donor's tax.

The PTC-CSJ Foundation accepts cash or check donations which can be deposited to the Foundation's US Dollar and Philippine Peso bank accounts (details below). Donors are requested to fax or email the Foundation a copy of the bank transaction slip, including the donor's contact details, so we can send an official receipt and Certificate of Donation. Thank you for your support!
Email: info@ptccsj.org.ph
Fax: +63 2 898 1107